"It's a long way to the top, if you want to rock and roll."
Thank you rock legends, AC/DC. Yet, it's a long, tough road to reach the top in the manufacturing world, too, especially CNC machining.
So, what does it take to not only be recognized as a "Top Shop" by industry influencer Modern Machine Shop, but also make the cover (and be the feature article) of their annual Top Shops issue? Let's find out, and also hear about the award presentation during the International Manufacturing Technology Show (IMTS).
Stecker Machine's Rise to the Top
Approaching their 50th anniversary next year, Stecker Machine Company in Manitowoc, Wisconsin, uses CNC equipment to create custom machined parts from metal castings, primarily complex aluminum and iron castings.
A mid- to high-volume CNC machine shop, Stecker is known for incredible accuracy, reliable consistency, and efficient processes. Those alone, however, are not enough to be recognized as a Top Shop these days.
Stecker puts a premium on becoming a true supply chain partner rather than a parts supplier. In addition, Stecker embraces tough challenges, taking on complex manufacturing problems that other machine shops turn away. Building that kind of reputation is a great way to get noticed, as is some well-done marketing/promotion and winning well-known awards.
Each year, Modern Machine Shop invites shops around the country to complete the Top Shops benchmark survey, which helps "find out what makes a shop rise to the top and how a shop stacks up against the competition." Matt Oswald, Marketing and Improvement Manager, has submitted information for Stecker for the past 3 years, with the shop consistently scoring in the top 20%.
This year, the selection committee of Modern Machine Shop selected Stecker as winner in the "shopfloor practices & performance" category.
"At Stecker, we're diligent about putting employees in positions to help our customers succeed. Being named a Top Shop is a true honor and verifies all of our efforts," Matt said. "When you do good work for your customers, form real partnerships, and work well with suppliers, you get noticed," he added.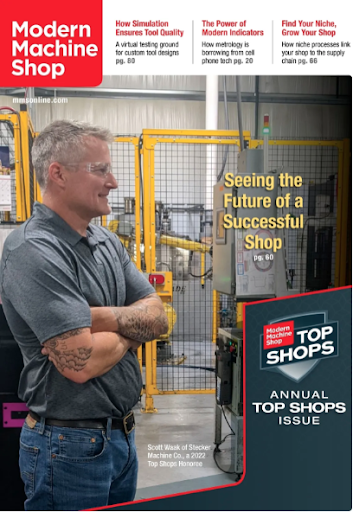 A State Known for Manufacturing and Machining
The Midwest is historically strong in manufacturing and machining, with Wisconsin being especially impressive. Previous Top Shops honorees include MRS Machining (Augusta, WI), Reich Tool & Design (Menomonee Falls), JR Machine (Shawano), plus A to Z Machine (Appleton) and KLH Industries (Germantown) both this year. With only four standout shops recognized for the Honors Program each year, it's impressive that three in 2022 are located in Wisconsin.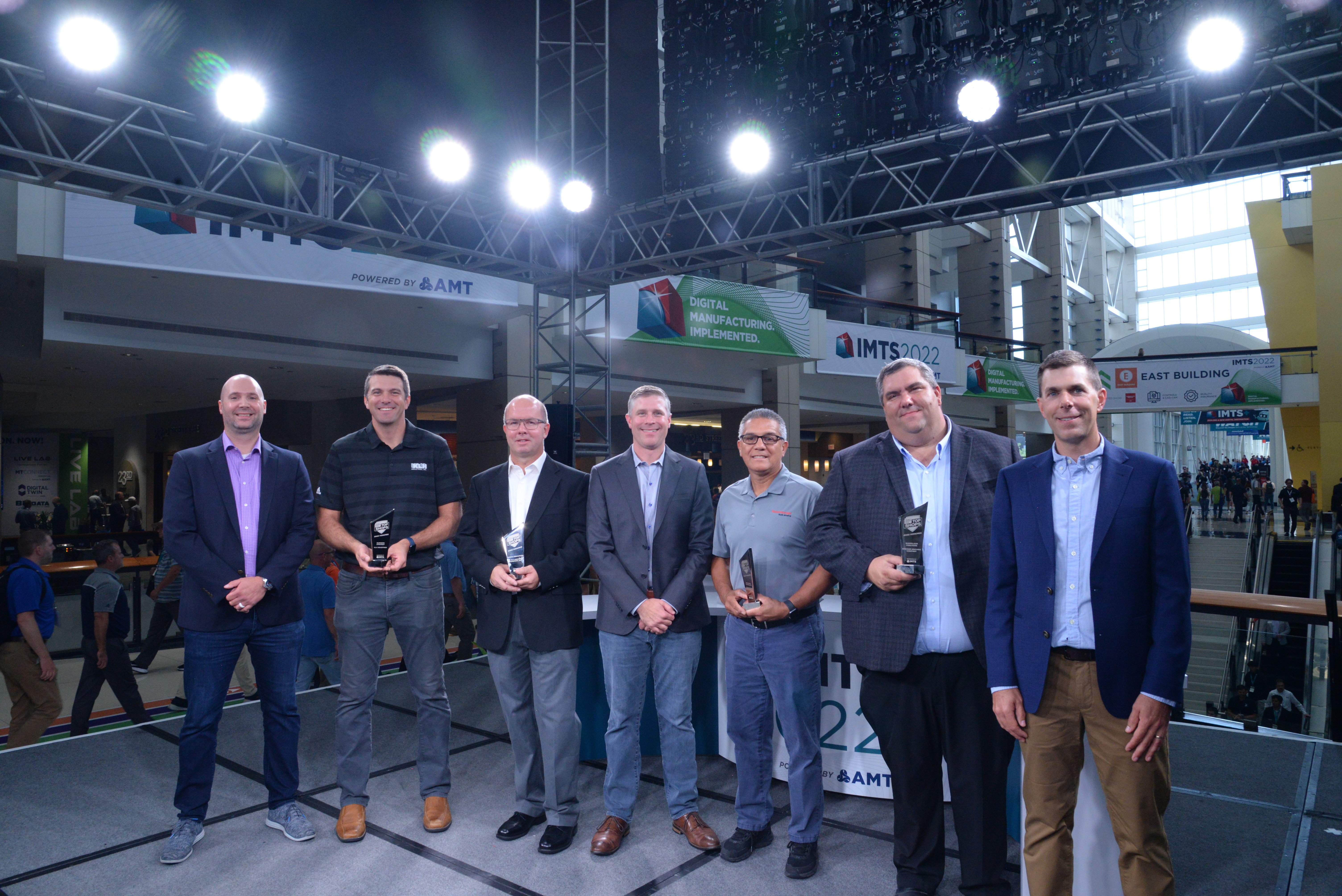 Internal drive and competitive business pushed Stecker to greatness, but not without considerable effort. As far as production, a tight focus on capacity keeps projects on track, a balance of aged and new equipment drives sales per CNC machine, and a dedication to timelines ensures on-time delivery. That has led to smart machine usage, impressive customer retention rates, low scrap/rework percentage, efficient setup time and spindle utilization, and impressive customer retention rates.
The feedback from the Top Shops benchmark survey mentioned specific Stecker strengths:
Investments in capital equipment and tooling
In-house engineering team
Marketing efforts
Training process (both in-classroom and on the shopfloor)
"Stecker has been a high-end shop for quite some time. We're always keeping current with technology to ensure high quality, and we're hyper-focused on meeting customers' needs," Matt said. "It's great to now see how we stack up against other CNC machine shops," he said.

IMTS Brought the Top Shops Together
Stecker accepted the Top Shop award in September during the International Manufacturing Technology Show (IMTS) as part of the Top Shops Conference in Chicago.
"The rousing support we heard as we accepted the award meant so much to me," Matt said. "A huge thank you to State Machine Tool, Toyoda, and Modern Machine Shop," he added. Brad Kurtzweil, Stecker Co-President, focused his award acceptance on Stecker's customers and employees, 29 of which attended IMTS during the 5-day show.
In addition to receiving their awards, all four 2022 Top Shops honorees participated in the Job Shops Workshop Day 2 Panel Discussion.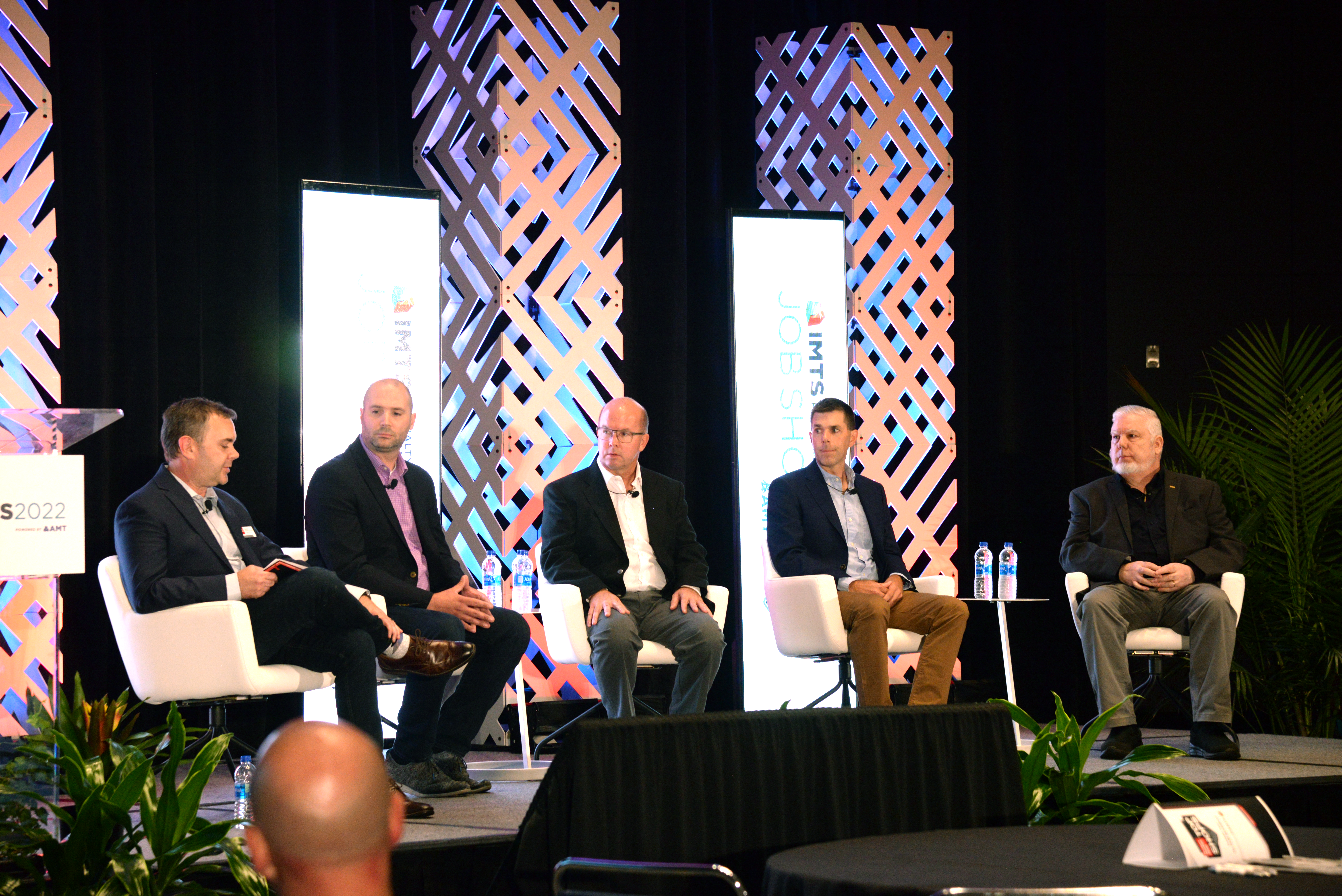 The discussion panel gave Top Shops a chance to share how they've gotten to the next level, discuss the need to adapt during ever-changing times, and exchange views on actionable ideas that other shops can implement.
Some subjects were shared with panelists ahead of time, and some questions were taken from the audience of approximately 200 to add spontaneity to the discussion.
Shop floor processes. Automation. Project management. Business strategy. Equipment ROI. Customer service. The topics discussed covered a wide range of issues that are important to CNC machine shops.
"During the panel discussion, I talked about leaning on our partners to find the best equipment," Matt explained. "We've both accelerated CNC machine replacements and kept older machines to add capacity/flexibility. It's a balance that works for Stecker," Matt said.
So, What Opportunities for Improvement are Available to a Top Shop?
Stecker has reached the top, and a lot of things have gone right in nearly 50 years. But, slowing down isn't in the plan.
Stecker is always searching for ways to enhance productivity, including investigating new technology: machines, cutting tools, automation, etc. "We have five robot cells and are adding another soon. Improving our long-term capacity is a priority," Matt said. "We have to plan for success and yet be prepared for what can go wrong," he explained.
Another challenge (more vital now than ever) includes the battle to attract and retain talent. Matt explains it this way: "It's hard to find people with CNC machining skills, so we've shifted our focus to finding personality and culture fits. Our training professionals are so good at sharing their insights, the skills can be learned, which gives employees a sense of accomplishment and helps them feel proud of their work."
As stated, CNC machine shops thrive when they have in-house capabilities that streamline processes from start to finish. See what high-end machine shops should be bringing to a partnership: Value Added Services Checklist.