You likely don't need a Harvard Business Review article to tell you that a positive work environment is more productive.
It's no secret that a positive work culture is crucial in retaining employees, but did you know that businesses with highly engaged employees enjoy 100% more job applications (according to Queen's University and Gallup, Inc.)? So, word gets around about a company's solid culture and attracts great employees, too.
What's still a secret to some organizations, though, is how to establish and maintain a continually improving workplace environment. I'm happy to share what we've discovered at Stecker Machine, a high-end CNC machine shop that excels in teamwork, clear communication, and quality workmanship…all resulting from an exceptional work environment.
Defining a Company's Culture
No single strategy can unite every company workforce because no two businesses have the same culture. Culture is the personality of a workplace, and it's molded by a company's values and traditions, which are naturally unique to each organization. A company builds a positive culture by staying true to its values and hiring and retaining employees that fit into that culture.
Sustaining a positive culture over time takes work. It doesn't just happen because you post your company values or mission statement on the walls for employees to see. It takes effort, especially by leadership, to stay aware of current issues or changes that need attention as well as implementing them.
Key #1 to a Strong Culture: Awareness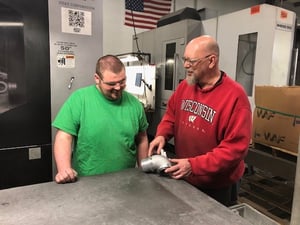 Every business wants the kind of employee engagement and empowerment that builds a positive culture. However, the challenge is often understanding exactly how to spark that inspiration in employees. What do they want? What do they not want?
A company must be aware that the things that make employees satisfied and fulfilled is constantly changing. Yes, some basics always remain: employees feeling a sense of purpose, having engaging work, being part of a team, and knowing they're contributing to the company's overall success.
Yet, priorities do change. For instance, more and more of today's employees appreciate participating in some form of community involvement through their employers. It could be as simple as teaming up for a weekend charity run, or it could be as complex as building a house for a local family in need.
Uncovering a workforce's level of commitment is important, which can be done through regular company engagement surveys, self-appraisals, or one-on-one conversations with employees. It's amazing what you can learn when you ask, "What can we do to help you become more satisfied with your current position?"
It takes a bit of effort to keep track of where the needs are, but there's an advantage of really knowing what's on employees' minds.
Key #2 to a Strong Culture: Action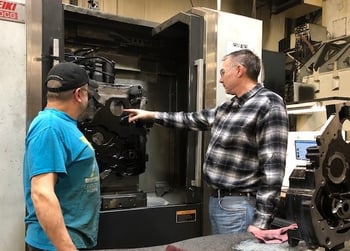 The Queen's University/Gallup, Inc. study mentioned earlier found that disengaged workers had 37% higher absenteeism, 49% more accidents, and 60% more errors and defects. Disengagement often results from inaction; when leadership knows an issue exists yet refuses to act, which can turn off motivation and be very costly.
Truly positive work cultures develop when leadership isn't afraid to put new ideas into action or address issues that are grinding down productivity. This can come down to balancing change with tradition.
Long-time employees enjoy the security of knowing and living a company's values, so change can be seen as threatening if not presented properly. Newer employees, or even top-talent candidates (see more in the next section), need to know that positive change is a regular occurence. There's no excitement in hearing, "Things have always been done this way, so we don't need to change."
Constant improvements should include training that empowers people to keep culture top of mind. Typically, an outside firm, such as MRA, offers a comprehensive assortment of supervisor-level development opportunities that help build successful workplaces. This investment in time and money pays off with more connected, understanding, and effective relationships across the board.
Leadership can nurture a positive culture by taking action, whether that's encouraging training, updating policies, developing more team-building events, or setting new and rewarding goals.
Hiring People That Fit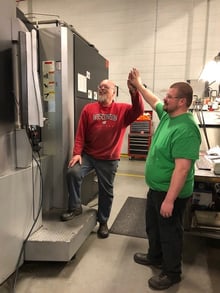 The right skillset should no-doubt be the #1 determining factor in hiring a new employee. Work experience can go a long way, especially in a CNC machine shop. Current employees need to know that management is committed to putting outstanding people next to them, and potential candidates should feel confident that they'll be working with great coworkers.
Yet, a person's ability to fit within that company's unique culture should also be a focus. Personality traits, some of which have little to do with the actual job itself, can help determine long-term potential and how professional relationships may develop. These could include:
Loyalty — A commitment to daily success; not just a tally of years of service
Initiative — Voluntarily going beyond a job description is a positive sign
Growth — A desire to personally and professionally development
Innovation — Employees have the best ideas regarding how their jobs could be done better or more efficiently
That final trait is worth a deeper look. Continuous improvement needs to be a point of emphasis, both with current employees and potential hires. Being part of a team, leading any innovations, improving day-to-day functions, suggesting tools, etc. These should be looked for on resumes and discussed during reviews. Innovation is a basic, yet important, way to build a trusting, energetic culture.
Cross-functional work is another way to both expand knowledge between jobs and maintain a lively culture. Moving an experienced CNC machine operator to an unfamiliar machine may require some adjustment, but the payoff can be a new perspective as well as insights that can improve the process.
More than ever, candidates research a company before even applying to get a feel for the culture, and questions regarding culture during the interview process have grown tremendously. Discussing and promoting a positive culture to potential employees is a must if an offer is being considered. It needs to be a good cultural fit for both parties.
Culture vs Benefits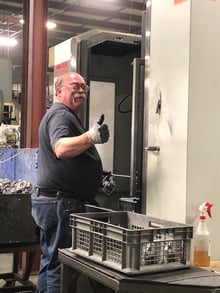 A great culture has never been more valuable to employees than it is today. People feel best (and perform at their best) when their values and personalities mesh with an employer's.
But does a tremendous culture outweigh traditional benefits? Maybe not "outweigh," but they need to be in harmony; too much emphasis on one or the other presents a disconnected image.
Commonly asked for benefits include a competitive wage, health/dental/vision insurance, vacation time, and a 401K plan (a company match is important). So, how will a company's culture be judged when a company can offer added benefits such as:
Sick Time
Profit Sharing
Holiday Pay
Short-Term Disability
Life Insurance
Safety Reimbursements
Continuing Educational assistance
Employee Assistance Program (EAP)
Sign-On Bonus
That's the kind of impression a company, especially a CNC machine shop, wants to make. A positive work environment obviously consists of many aspects, with awareness and action being the two that are often forgotten, or at least underemphasized.
For a closer look at how a positive work environment helps create a great culture, read Company Culture: 4 Ways to Build and Maintain a Great One in 2020, including a brief video of how we do it at Stecker Machine. Just click the image below.