Involved in the CNC machining market? Take a quick look at our CNC machining industry outlook for 2020.
What are Customer Expectations for 2020?
As the economy eases down from the recent bullish business cycle, customers are pulling back slightly. They're tightening their belts a bit. A year ago, the goal was to deliver parts on time and meet increased demand, but now customers are focusing on cost in addition to quality and delivery.
CNC machining is highly competitive, and machine shops strive to be ultra-efficient to reduce costs. Engineering often re-evaluates machines, processes, tooling, and volumes to reduce costs and provide savings to customers.
We take pride in offering our best, competitive price upfront. A "bidding low and adjusting up" tactic is not recommended practice. It puts a strain on the customer/supplier partnership, and the entire industry suffers when machine shops devalue their services.
Another reaction to the economy? Lead times continue to be demanding. With uncertainty surrounding tariffs and an upcoming election, stocking and ordering are becoming conservative.
Safety stock is a hot-button issue. Both customers and suppliers want to minimize excess stock. Machine shops end up carrying an increased stock burden so they can adjust to order changes to satisfy many of today's customers.
To simplify their already hectic lives, many businesspeople are looking for a single point of interaction. So, machine shops need to step up customer service. Customers want a consistent and clear channel to coordinate demand, delivery, price, and services. Customers want suppliers to take ownership to manage material and the complete supply base. Shops are becoming more and more responsible for ordering materials including castings and components, maintaining and managing pricing, and addressing all scheduling and logistics.
CNC Machine Centers are Evolving in New Ways
As recently as five years ago, shops could rely on each new CNC machine release to provide a significant cycle time boost. Machine after machine was faster, more robust, or had some other efficiency gain. Machine shops could provide value by investing in new machines, running faster, and reducing prices.
Lately, however, changes center on integration and usability. Controls and software are evolving to more closely resemble a phone app, intentionally appealing to younger generations of operators.
Machines now integrate more functions, communications, and diagnostics. Upgrading to a new machine model isn't providing a big jump to make parts faster for customers. But new machine technology does have a greater potential to attract and retain younger operators who are more comfortable with a modern, less-intimidating, more-intuitive interface.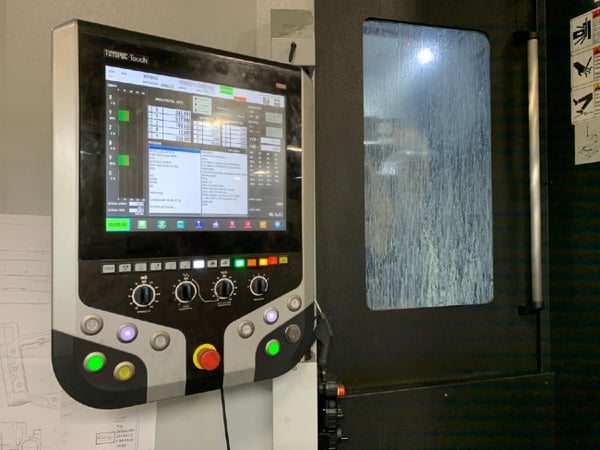 Increased Integration Between Machines and Software
Manufacturing systems and planning software are becoming increasingly integrated. Real-time machine data — cycle times, counts, program, tools, and alarms — can be seen and evaluated by management to help plan the immediate or long-term future.
Integrating monitoring MES (manufacturing execution system) software with ERP is becoming more common. This integration provides top-to-bottom visibility.
There's been an increase in the integration of fully functioning manufacturing cells (robotics and CNC machines), which increases efficiency. Plus, machine tool builders can VPN into the CNC machine. This communication is direct, so machine techs can service and troubleshoot remotely, saving time and money.
With accurate machine data being more readily accessible and integrated into the lives of CNC machine shop professionals, a heavy emphasis may naturally be put on productivity, efficiency, and downtime.
The Employee Experience and Adapting to "People" Trends
When information is shared, and it's explained how that information impacts the bottom line, individuals and the team may get motivated as well as compensated (in the form of bonuses, for instance). Discussions regarding performance are more valuable than ever, especially when it's shown how performance is directly tied to profitability.
In addition to providing bonuses during profitable times, what else can a CNC machine shop do to attract the right people in a tightened labor market?
Re-evaluate (and possibly boost) starting wages for new employees
Look at health insurance coverage; get new hires on the plan within 30 days
Have vacation available just a month after starting
Promote employee wellness; fitness center partnerships, weight-loss events, etc.
Develop training programs (in-house or offsite) that create future company leaders
Positioned for Growth
When it comes to an overall machine tool industry outlook for 2020, the main goal may not be that much different than in years past: grow.
There's an art to taking on new work while satisfying current customers. It requires proper strategic thinking and the ability to plan departments and position people for whatever projects may come their way.
For instance, CNC machining for electric vehicle components will surely increase in the future; maybe not in 2020, but down the road. What, if anything, can a machine shop do now to be ready to capitalize on this untapped market?
Growth usually takes an investment in training, too, with people having the skills to adequately advance and set the shop up for success. Machine shops are traditionally technically strong; the emphasis is on developing the "people side" of the business more than ever in 2020.
Hopefully, you have a better idea of what 2020 will bring. Remember that part about machine shops striving to be ultra-efficient to reduce costs?
Proper production management — coordinating raw materials, human resources, and equipment — improves a shop's workflow and department collaboration. Read Production Management Checklist: 5 Ways to Maximize Machine Shop Inventory to get insight on upfront planning that helps keep things running smoothly while maximizing machine shop inventory.