No one appreciates having "the right tool for the job" more than CNC machine operators. Yet, in order for any tool to do its job properly, the right CNC fixture (also called a CNC workholding fixture) has to secure and stabilize whatever piece is being worked on during CNC machining.
Fixturing is complex and can be quite challenging. Engineers who love tough tasks embrace the challenge, knowing how important fixturing is in CNC machining. In addition to expert engineering, making reliable CNC fixtures also requires some science, a bit of art, and solid teamwork.
Stecker Machine designs CNC fixtures following a process developed from decades of experience incorporating critical attention to detail. Our CNC fixture engineering process goes beyond designing with CAD tools like Solidworks, ProEngineer, or AutoCAD.
CNC Fixture Design Process
There are three key inputs when considering CNC fixture design, and it starts with the part blueprint. Engineers review the blueprint to identify where the datums are and all of the critical features. Next, a CNC machining/manufacturing process is determined. Finally, a CNC fixture budget is developed.
The Sales and Engineering teams work together with the customer from the start to review any potential issues that may arise. Here's how a CNC fixture design process typically progresses:
The critical features from the blueprint drive the CNC fixture design. Ideally, when a part is fixtured, it allows all critical features to be machined together in a single operation, maximizing machining control and precision. Not having to relocate a part for numerous operations avoids potential design tolerance issues.
Modern fixture design is done using a three-dimensional (3D) Computer Aided Design (CAD) tool, such as SolidWorks. The CAD model of the customer's part is imported into the design program along with the models of the CNC machine work center pallet and work area. From there, the CNC fixture is designed to robustly hold the part inside the CNC machine center.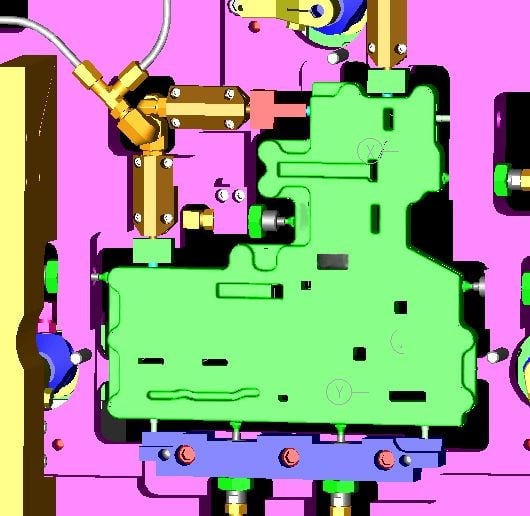 A primary consideration is to follow the blueprint datum scheme. Parts often use a 3-2-1 datum scheme. For example, see the part, fixture, and datums pictured below. Clamps hold the part flat to stops on three X datums, and the two Y datums rest on vertical stops. These locate the part accurately to maintain the blueprint requirements, including cast to machine dimensions.
The one Z datum is against a stop locating the part horizontally. Workholding stops and clamps should be located on datums or as close as possible. Some parts can't be held on the datums, and some parts may include special clamping features like tabs. These tabs are added to the casting specifically for workholding in CNC machining.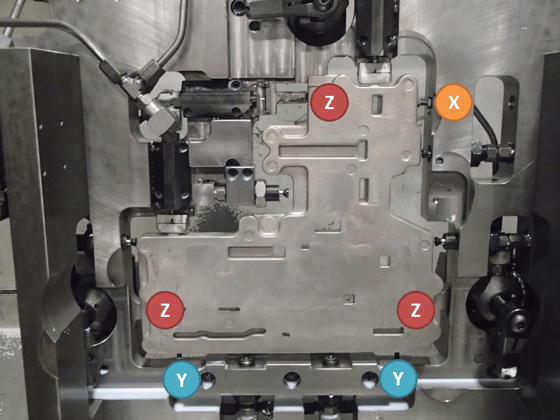 Design from Experience
Past designs are often a starting point for new projects, and a new design often reuses ideas from similar past projects. Starting from a proven, working design is often faster and more successful than starting from scratch. The greater the CNC machine shop's experience, the more likely a similar problem has been successfully solved.
Another step is to standardize and reuse known working fixture components, which speeds up the design by avoiding the need to search various catalogs for these components. Part commonality also means we have them in stock, ready to use; there's no need to purchase them and worry about them being delivered on time.
CNC fixtures are used in production to repeatedly manufacture thousands of parts, so smooth and error-proof part loading is critical for efficient, correct, and repeatable production. CNC operators work with the CNC fixture in various stages: setup, run, and teardown. Engineers know designs aren't fully proven out in CAD; the true test comes after running hundreds of parts.
This experience has taught us the importance of being able to see and check that the part is against the workstops. Similarly, experience shows how proper chip evacuation and fixture maintenance make a difference. The engineer, with production experience, optimizes the design from their perspective, which not only includes cost, strength, and aesthetics but also efficiency, ergonomics, and ease of use.
A Checklist Solely for CNC Fixtures
Engineering is about being thorough. Engineers meticulously scour over the details, reviewing every aspect to make sure a CNC fixture design will work properly. This often includes using a CNC fixture design checklist, a tool to ensure designs capture all details consistently.
Great for new engineers, who refer to it throughout the design process, the review checklist also helps expert designers double-check a fast-moving project.
Not a complete list, here are some topics from our CNC fixture checklist:
Clamping and stops
Part loading/unloading
Fixture to part clearance
Preventing misloads
Fixture lifting/loading/center of gravity
Hydraulics
Labeling
Bill of Material (BOM)
In addition, CNC fixture items and parts should be reviewed in motion (which adds complexity) including:
How CNC machine operators load/unload the parts
How the fixture is loaded/unloaded from the CNC machine
The sequencing of workholding components and supports
Tool and spindle clearance
Build and Release to Production
Next, engineers review the CNC fixture design with the build team to catch any potential manufacturing issues before they become issues. With the shared goal of building the fixture as smoothly as possible, they cover how the components will be manufactured/assembled and iron out details regarding machining components, mechanical and hydraulic assembly, and testing.
Finally, the CNC fixture is released to production. Two keys help minimize production issues: a thorough design process and sharing as much information with the floor as possible. Teaching the production team upfront helps them understand the design and its purpose.
CNC fixture design is fun and rewarding!
Engineers are problem-solvers who are driven to find solutions. Designing a CNC fixture can be a challenge because some parts are difficult to hold and process.
Stecker Machine's engineers have designed and built thousands of fixtures for various parts. Our team prides itself on providing solutions for complex CNC manufacturing problems and machining customer parts precisely to the blueprint. Plus, it's rewarding to be part of a team that grows together and shares ideas and expertise.
Now that you know about CNC fixture design, are you ready to learn more about CNC tooling? Our guide covers what tool is needed, when to invest in tools, how to implement new tooling, and how to build vendor partnerships. Get your copy by clicking below.