Most CNC machine shops have been here: You win a project. You staff the right CNC operators. You receive the castings. You prepare a project setup cart. And then … an incomplete set of tools stops you before you get started.
CNC machining tool availability directly impacts the bottom line. Being able to stock what's needed on-hand, or the ability to quickly get it, is a must. And just as vital is the in-house capability to fully manage an entire tooling inventory.
Today, we're sharing five tips for managing your CNC machine shop tools:
1. Choose Your Material Type With Tooling In Mind
2. Know How Face Mills, Inserts, And Cutter Bodies Work
3. Decide What Tooling Will Be Kept On-Hand
4. Plan Production Wisely
5. Establish A Tool Management System
Before we dive in, we also recommend these articles if CNC cutting tools are vital to your success:
1. Choose Your Material Type With Tooling In Mind
Steel. Aluminum. Gray iron. Ductile iron. The specific type of material to be machined is the single most important factor in determining the tooling and grading required to cut that material.
Here are two examples:
1) For an aluminum project involving thousands of finished parts, a wise choice is PCD tooling (see below for more), which results in faster machining tooling and more surface footage, yet has a higher cost than our next option. A carbide tool is a cheaper alternative that performs the same cutting. The PCD tool has a higher initial cost — up to 3 times that of carbide — however it cuts faster (reduced cycle times) and, when implemented correctly, can yield approximately 10 times the tool life, saving more money in the long run.
If the quantity for that same aluminum project drops to, let's say ... 250 total, PCD's high cost won't result in enough return to make the pricier purchase worthwhile. However, if the finished surface needs to look pristine, the PCD tool suddenly becomes worth the price because of its high-quality performance.
2) In another example, for a sand casting, a carbide insert could be used to perform the roughing (to open up the scale), followed by a PCD insert to do the finishing. Several steps may be the most efficient way to machine a part, again, depending on the material.
PCD stands for polycrystalline diamond, which is a brazed tipped end mill that requires robust tooling setups and high spindle speeds. A PCD could last as long as one year, depending on the cutting task; a roughing insert may last half as long as a finishing insert because more material is being removed.

The visual difference between carbide (left) and PCD (right) is night and day.
2. Know How Face Mills, Inserts & Cutter Bodies Work
Let's explore the guts of CNC mill cutting tools. A face mill is a customizable tool made up of a body and inserts. A face mill body holds cutting inserts, and it can be used on any job in a CNC machine shop if it's outfitted with the right inserts. The inserts are called "perishable" because they wear down over time.
The insert, which actually cuts the metal, is placed into a pocket on the cutter body. The cutter body holds the insert so it can perform properly (cut the material and/or create the features in the part). Unlike the insert, choosing a cutter body doesn't depend on the material being cut (aluminum, iron, steel); the cutter body can be the same for all materials, but the insert cannot.
Obviously, the perishable inserts need to be stocked, but are backup cutter bodies needed? For the most frequently used ones, yes. In a large, high-end CNC machine shop, it's not uncommon to have 10 or more of the same cutter body. When cutter bodies wear out or get damaged, they can be rebuilt by the manufacturer, which welds the pocket and remachines it to ISO standards. Many CNC machine shops understand that the quality and performance of a rebuilt cutting body may not equal that of a new tool, and may instead choose to invest in new tooling.
Inserts are not machine-specific, but they are material-specific. What if a shop would run an insert meant for iron on an aluminum piece? The heat generated by the insert could be enough to adhere the aluminum's coating to the base of the insert.
CNC machine shops should implement regular maintenance to uphold high-quality tooling. One example is the often overlooked insert screws, which hold the inserts in place on the cutter body. As inserts get worn and replaced, a new set of screws should be used every third insert change. This prevents stretching the screw out, causing the screw to pop out and damage the cutter body.

This particular tool consists of (left to right) a tool holder, extensions, a body, reamer, and bolt.
3. Decide What Tooling Will Be Kept On-hand
There's no contest. Tooling makes a huge difference. It may not be the only difference — accurate programming, vendor relationships, and inventory management all elevate a shop's performance — but having so much reliable tooling on-hand (or quickly available) separates larger CNC shops from smaller ones. For instance, a mom-and-pop machine shop likely won't have five different kinds of 3" face mills available at all times.
However, when comparing large shop to large shop, many basic tools are similar. It's the custom, combo tools (multiple features that save cycle time, reduce tool changes, etc.) that separate these two. Challenging projects dictate what tools are needed, and some CNC shops search out complex projects to sharpen their skills and expand their tooling expertise.
Larger shops have the confidence to approach new projects with a singular focus: tooling their jobs up only once. It's a plan to maximize top-end tooling and drive ultimate efficiency to give customers the biggest bang for their buck. By not cutting corners, these CNC shops can spec the best cutting tools and create the most reliable workholding.
4. Plan Production Wisely
Like any production process, it takes planning to prepare to machine a casting. In a CNC machine shop, covering the details makes for smooth production: the right machine, machine capacity, operator capacity, the right tooling (face mills, inserts, cutter bodies) and, of course, the castings.
Managers of the shop's tool crib distribute a list of upcoming jobs internally. Some are recurring projects with tooling already set up and ready to go. Even a job requiring multiple tools may remain set up and stored on racks or carts in the tool crib until that set of tools is again needed.
When a new project requires setup, a list of tools is assembled at least 48 hours in advance. It's vital to be ready when the specified CNC machine is open to run the parts. If during the setup process it's found that a specific tool isn't available, the tool team has three options: substitute an equal replacement tool, acquire a new tool (making that 48-hour window even more important), or shift the production timeline.
Experienced and established CNC machine shops have large tool cribs that make finding substitute tools (usually inserts) more likely.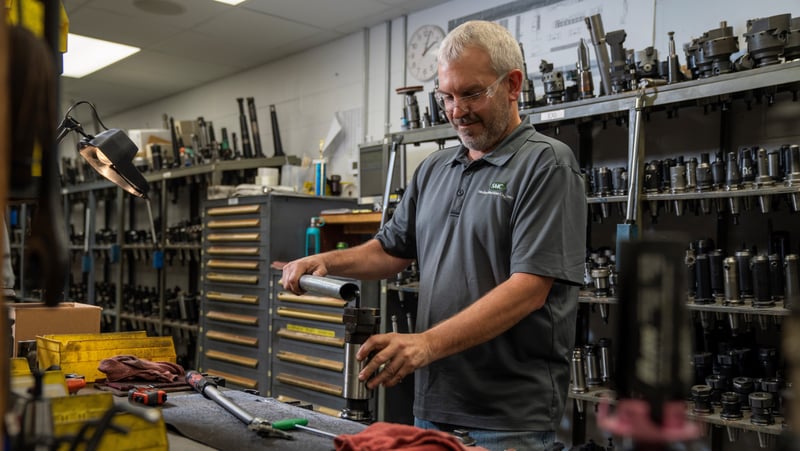 Our expert tool crib attendants keep stock of thousands of tools and make sure everything runs smoothly.
5. Establish A Tool Management System
With hundreds of tools being actively used, awaiting projects, or stored in the tool crib, it's easy to understand why an effective tool management system is a must. With a click, a team member can see how many of a specific tool are currently running, in inventory, on order, being resharpened, waiting to be torn down, and ready to be included in a setup.
The most comprehensive systems go beyond inventory; they show impressions — exactly how many parts a particular drill has run for a job on a machine. Also, if a tool quantity drops under a preset minimum, the system automatically kicks in and reorders that tool on its own.
At Stecker Machine, we use the Plex Smart Manufacturing Platform, which provides the visibility we need to have 100% control of all aspects of tooling.
CNC Machining Tools Drive Award-Winning Performance
In 2022, Stecker Machine was recognized as a Top Shop by the editors of Modern Machine Shop, which included participation in a panel discussion at the International Machining Technology Show (IMTS).
To qualify, shops needed to perform in the top 20% of scores in four categories: technology, strategy, human resources, and shopfloor practices & performance, Stecker's chosen category.

​​Matt Oswald, Marketing and Improvement Manager, explains the importance of tooling in that category. "High performance and a smooth-running processes set us apart in our customers' minds," Matt says. "Our people can't do that without reliable CNC cutting tools, which includes a tool management system. High-end shopfloor performance relies on proper tooling."

We'd like to share four real-life examples of unique tooling solutions we developed at Stecker Machine. CNC Tooling Improvements and Partnerships: A Guide to Solving Specific Tooling Issues explains the best processes for approaching specific CNC tooling needs. Click below to get your copy!