YOU likely can be a CNC machine operator.
We say that with confidence because of our decades of experience within the precision machining industry. That doesn't mean it's easy. It means excelling as a CNC machine operator doesn't require extraordinary strength, a superior IQ, a college degree, or decades of experience. If you possess any of those, more power to you — they certainly help — but, you don't need them.
Still with us? Good! Consider this article to be a checklist of the best practices and skills that you should have in order to begin and enjoy a long, fulfilling career as a CNC machine operator.
Before reviewing the checklist, here's what you won't see:
Age restrictions
Mention of gender
Required higher education
Upfront financial investment
Some trade professions are better suited for specific people, but not so with CNC machining. Like we mentioned, odds are that you can be quite successful in this career that is in high demand. Review this checklist and see how it fits with you and your career goals.
Technology Is Your Best Friend
What "CNC" stands for — computer numerical control — provides a good idea of what this manufacturing method is all about. Machine tools are automatically controlled using software within a microcomputer on the tool. Yes, that sounds technically advanced (and it is), but this technology is also easy to use, making it fun to operate.
Machining tasks are automated using G-code and M-code programming. The CNC machine runs the programmed machining instructions, and the operator works with the machine. Everything that you need to know about programming is taught on the job with an available "help" nearby; no additional education is needed. You'll learn how CNC machines work including G and M codes on the job.
To see how a CNC machine shop works, watch this video.
When you hear "code," "programming," and "numerical control," you may think that a degree in math is needed to be a CNC operator. Far from it, actually. Basic math — addition, subtraction, multiplication, division — is all you need. Complex mathematics is already done upfront when setting up the programming.
Although computer numerical controlled machines cut with a precision exceeding .001", only basic computer skills are needed to operate them. Simply logging of data, time, and parts each day is required.
In fact, the most important knowledge required of a CNC machine operator is an understanding of workplace safety practices. That should always be emphasized within a manufacturing environment.
"Hands-On" Doesn't Mean Dirty, Grimy, Stinky
Modern CNC machine shops aren't what they used to be (or what some people think they still are). These are clean, worker-friendly spaces that promote safety as well as productivity.
The computer part of "computer numerical control" has a lot to do with a shop's environment, too. CNC machines must be kept clean in order to perform properly and achieve the highly precise measurements mentioned above.
A CNC machine operator mostly maintains a previously established workflow or process, with fixtures and tools being preset and ready to use. Hands-on work — running production, making simple changeovers to different parts, and conducting quality control audits — are not messy tasks.
So, even though there are misconceptions about CNC machining that give people the wrong impression, these myths are no longer true. In fact, even a high-school-age person can begin at a CNC machine shop where they'll be trained, paid a great wage, and do hands-on work while keeping their hands quite clean.
Pride Can Be Very Rewarding
Solving a problem is a rewarding feeling. Seeing your work put to action within commercial vehicles or complex machinery is even better. That's why machining metal castings can be such a source of pride. You work with incredibly impressive parts every day.
Here is just a sampling of the types of projects within a CNC machine shop:
Auto Engine Supercharger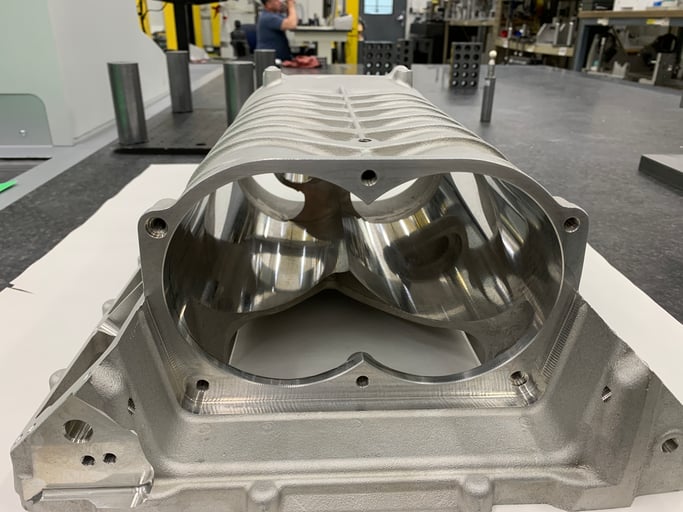 Valve Body Manifold

End Bell Housing for Truck Electric Axles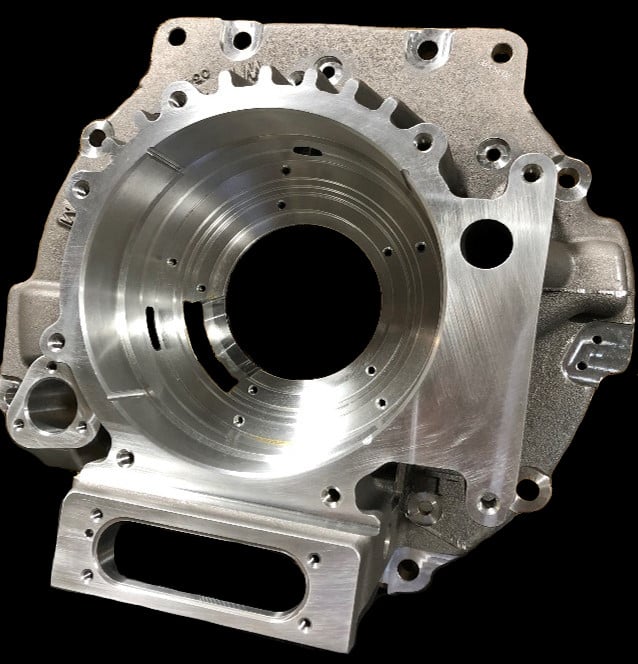 Speaking of impressive, in a previous article, we explained how a career in CNC machining provides rewarding work, a healthy environment, incredible variety, and a workflow that fits many people's style.
Other skilled trades can be physically demanding, but not CNC machining. The ability to lift 8-15 pounds on average is required. Anything over 40 pounds will be moved using a crane or other assistance. Often with the most repetitive lifting, an industrial robot does the work, moving, loading, and unloading metal castings for machining.
Additionally, some bending, twisting, and turning of the body is needed, but nothing too physically strenuous.
Other tools used in and around CNC machines include precision gauges, handheld pneumatic tools, air wrenches, battery-operated drills, files, and a data matrix machine to imprint a part number, date, etc.
Stecker Machine focuses on machining metal castings from foundries. While some shops specialize in uncommon metals, the two metals most often machined at Stecker — aluminum and iron — are manufacturing-friendly. So in-depth knowledge of various types of metals is not needed to be a good CNC operator.
The Right Attitude Goes a Long Way
When we say "YOU" can be a CNC machine operator, we should clarify one thing: it requires the right attitude (which we assume you have). That includes personality traits such as motivation to work at a high-quality level, the drive to create something special, teamwork, curiosity, confidence, time management, and solid problem-solving skills. Again, things you learn in the school of life, not a school of higher education.
However, if your career goals include striving even further, CNC machining starts you on a great path. You can move up to take on other responsibilities: CNC Machine Operator → CNC Technician/Setup → Lead-Worker → Production Supervisor. Basically, once you have CNC machining experience, it opens up career opportunities in operations, engineering, quality control, management, etc.
Ready to explore your possibilities? Young, old, experienced, schooled, strong, smart, whatever … we know YOU can be productive and satisfied by working in the CNC world. Click to review Stecker Machine's CNC Operator Positions.