Quality stems from design, processes and culture. It can't be "tested in" to a product or process. The quality assurance (QA) team leads the charge to ensure design, manufacturing process, and culture is capable and the product is reproducible. The new part production approval process (PPAP) requires several steps and lots of effort from the QA team. Running several concurrent new projects compounds this effort and shows the teams true capability.
The Part Production Process Begins with Design Review
The QA process formally begins with a Purchase Order (PO) and final approved drawings. The first step is print review. The customer design is reviewed in detail to ensure it is manufacturable, tolerances are achievable, current measuring equipment is capable to check all features on the print accurately. Then QA and engineering begin the Advanced Product Quality Planning (APQP) process.
Additional upfront work is done on brand new designs compared to existing products and design changes. Quality and Engineering work hand in hand with customers and foundry suppliers on new parts. They'll review the design and manufacturing processes jointly to optimize product function and minimize costs.
Quality Leads Production for a Smooth Launch
The Quality Assurance team uses the APQP process prior to production turning the key. Much of APQP runs in parallel with engineering designing fixtures, creating programs, and choosing tooling. Both teams work close together toward the common goal of accurate production and satisfied customer. QA performs analysis and creates the checks needed to verify engineering and production. Several tools are used analyze, control and document production. Controls like audits and Coordinate-Measuring Machine (CMM) programs are created. Here is a list of the most significant tools and deliverables.
Tools
Product Control Plan (PCP) lists all the customers specifications, the manufacturing process steps and quality controls at each process step.
Failure Modes Effect Analysis (FMEA) is used to understand the manufacturing process, controls, and minimize defect risks.
Process Flow Diagram (PFD) outlines the manufacturing process for inspections.
Deliverables
First Article Inspection (FAI) defines all the specifications checked each time a new job is setup to produce the part.
Operator Audit Sheet (OAS) lists all the checks the operator completes during production.
New gauges are ordered as needed.
CMM program is created and verified to check positions and features.
Supplier Quality Requirements (SQR) are communicated and any questions and issues are worked through.
Engineering designs are reviewed by a Quality Engineer (QE).
Production Sample and the Part Submission Warrant (PSW).
The first production samples get special attention. Production sets up the job and runs the first piece. The operator completes the FAI. This part is brought to QA. It is used to prove out the CMM program. If any features are out of tolerance or far from nominal, Quality works with the operator and engineering to correct these issues. Once a part passes the FAI and CMM checks, an Initial Sample Inspection Report (ISIR) is completed. The ISIR includes a full dimensional layout of the part to verify print specification; each dimension on the drawing is measured and recorded.
Once ISIR passes, QA signs off and the PPAP job begins. A number of production samples are produced. Parts are sampled and further checked for ISIR. A typical PPAP sample production is 30 pieces with 3 ISIRs including the first piece and two more samples. The remaining two pieces are typically sampled from the middle and end of the run.
Once the samples are complete the PSW is finalized and submitted. Process Capability (CPK) is checked and measured from the samples. Gauge Repeatability and Reproducibility (GRR) is determined. The entire PPAP documentation package is completed and submitted with a signed PSW.
Quality Team Is Key in New Part Production Process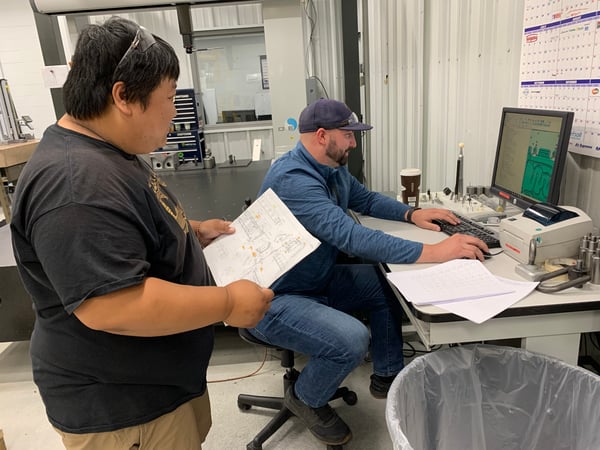 Stecker Machine's talented and experienced Quality Assurance team plays a major role in a smooth PPAP launch. Our team of over 20 employees includes auditors, technicians, engineers, systems coordinator, and programmers. The team covers various specialties, but we all help out and work together to ensure all product is manufactured to customer specification.
Recently we launched several new parts concurrently, and this put Stecker Machine including the Quality Department to the test. The timeline was tight, so we carefully managed and aligned resources for success. Several people stepped up to help with the many ISIR with full dimensional layouts. We leaned on CMM programmers, technicians, managers, and even a machinist apprentice to relieve the schedule and manpower bottleneck.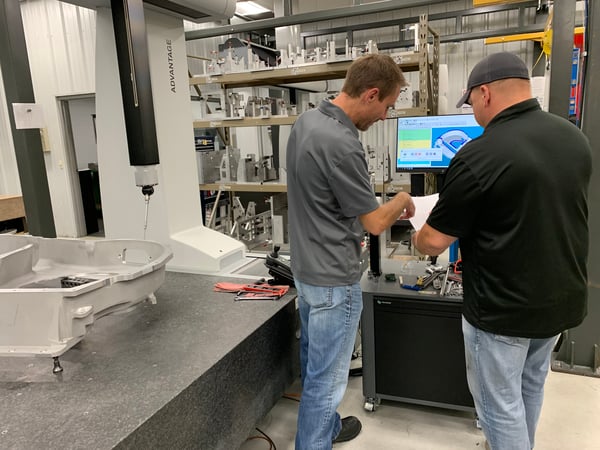 We temporarily expanded our CMM capacity for new parts. Typically three CMMs are used for FAI parts and the other seven CMMs check in-cycle parts. We utilized a fourth CMM for FAI on this project. To do this we adjusted our production sampling plan. We determined production parts that were very stable and could be tested less frequently. We made this change smartly and had some good luck. There was no increase in production scrap and the third CMM enabled us to stay on schedule.
The Quality Team and Stecker Machine are driven and focused to meet customer needs. With a little creativity and a lot of hard work, the QA team pushed through over thirty new parts while maintaining quality on running production.
If you're ready to put our machining and quality to the test, reach out to us with a Request For Quote (RFQ). You can easily contact us: online, by phone, or by email. If you're still looking for more reasons to work with us, consider reading our case study on a recent machining, testing and quality challenge.