So much time and effort is put into machining CNC parts and components: designing, planning, casting, machining, deburring, washing, controlling quality, managing inventory … plus all of the coordination required. Yet, without properly shipping the finished CNC machined parts, all of this effort could be wasted.
Shipping CNC parts — some reaching tolerances to 0.001" — requires the right methods and materials to ensure they arrive undamaged and ready to perform. "Metal" sounds hard and unbreakable, so protection may not seem like a priority … but it is.
The Many Aspects of Shipping CNC Machined Parts
Packaging and shipping CNC machined parts is a balance of:
Customer requirements
Specific required items: design and cost
Ease of use for the operator packaging the part
Availability (or unavailability) of customer-supplied containers/materials
Customer Requirements
Customer packaging instruction requirements can vary from basic to extremely detailed. When possible, a CNC machine shop tries to use current purchased item inventory; generally one-time use, "soft" or "perishable" items.
Of course, the more machined part numbers a shop can put into a dedicated packaging item, the less different packaging items (and inventory) you need to maintain. As more machined part numbers that use the same packaging, the volume grows and costs go down.
When looking to purchase new and/or unique packaging items, it's essential for a CNC shop to work with suppliers that may have better/more affordable items to cover the needs. Samples can be documented and sent to the customer for approval before use.
Specific Required Items: Design and Cost
While some customers provide specific packaging instructions — detailing customer-supplied containers, layers, bag type, quantity per layer/box, etc. — others only offer cleanliness requirements, a container size, and an approximate total quantity.
When receiving minimal information, a CNC shop may implement a CAD system to test fit parts in the requested container. CAD assists the packaging design setup, whatever the part's size and weight, allowing for a container test fit without having parts/castings on-hand.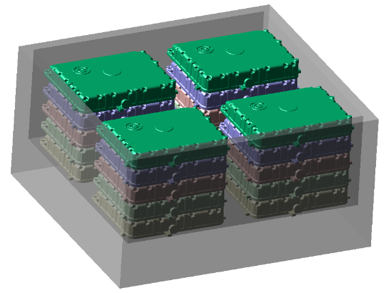 When designing the layout in CAD (or by hand using actual parts), it's important to make full use of the container footprint, ensuring parts cannot move or contact each other while in transit. Part dividers also limit the movement of the parts within the layer. Occasionally, a shop can redesign a part layout to use the entire container footprint, maintain a tight pattern, and pack more parts than what the customer requires.
Ease of Use for the Operator Packaging the Part
How easily a CNC machine operator can use packaging/shipping materials is just as important as the product they're packaging. A setup that's difficult to use can, and will, lead to improperly packaged parts and possible damage during shipping.
Using a minimum of unique purchased items for packaging also helps reduce confusion. A shop's wash/pack area may have 12+ different jobs running simultaneously. Operators need to be efficient and not worried about a difficult part fit or the possibility of using purchased items that look similar.
Packaging/Shipping Pros Know Best

The people doing the packaging — those with daily hands-on experience with the parts — should be encouraged to provide input and ideas. They know what works and what doesn't, which setups are easy and which are difficult. Changes to drive efficiencies can be shared with a customer to improve a packing/shipping plan.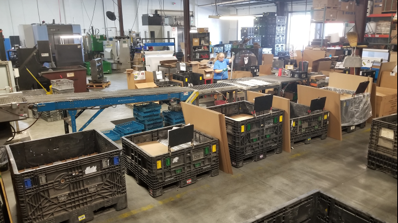 Availability (or Unavailability) of Customer-Supplied Containers/Materials
Using customer-supplied materials can occasionally be a challenge. Containers arrive late or are not available when parts are being machined/packaged. To remain prepared, a CNC shop's packaging instructions should include an alternate version based on other customer-supplied items, or items that the shop keeps in inventory.
Alternate packaging may be as simple as changing from a plastic dunnage to a cardboard box of the same size. Other projects may require a complete design comparable to the original container, preferably made from consumable products (to keep costs low).
Planning for Successful Shipping
Although shipping is one of the final steps in a manufacturing process, it must be planned for from the beginning in order to be successful. One reason is to account for all of the costs that may be involved: shipping method, crates, pallets, tie downs, and other needed materials. Obviously, knowing who is responsible for each aspect of delivery is key.
Efficient shipping is part of a CNC machine shop's process. Learn more about Lean manufacturing by checking out our eBook. Click the link below to get your copy of The Benefits of Lean Manufacturing in Machine Shops.